Price Save 26% from $85.85 to $63.79
Camelbak Magnum Force MP3 Gloves are rugged combat glove that feature hard knuckle protection reinforced with KEVLAR® for ultimate protection. This Camelbak glove has a reinforced palm pad and grip for maximum grip. The Camelback Magnum Force Glove has tacky fingertips and thumb for extra grip and finger control. This tactical glove from CamelBak is made for applications including close quarter battle (CQB), Military Operation on Urban Terrain (MOUT), and extremely rough conditions, as well as any duties that require supreme knuckle protection.
CamelBak makes tactical and military gloves designed for hard use in all conditions. All weather gloves from Camelbak cover a range of conditions in the field. Camelbak makes tactical gloves and assault gloves for any operation, from elite commando and SWAT teams to everyday infantry use, and flexible work gloves for any climate. From the heat of the desert to frozen mountain and tundra, Camelbak Duty Gloves can handle it all. We carry a big selection of Camelbak gear, including Camelback Gloves and Camelbak Hydration Systems, all backed by our usual high-quality customer service as well as our guarantee of 100% customer satisfaction!
---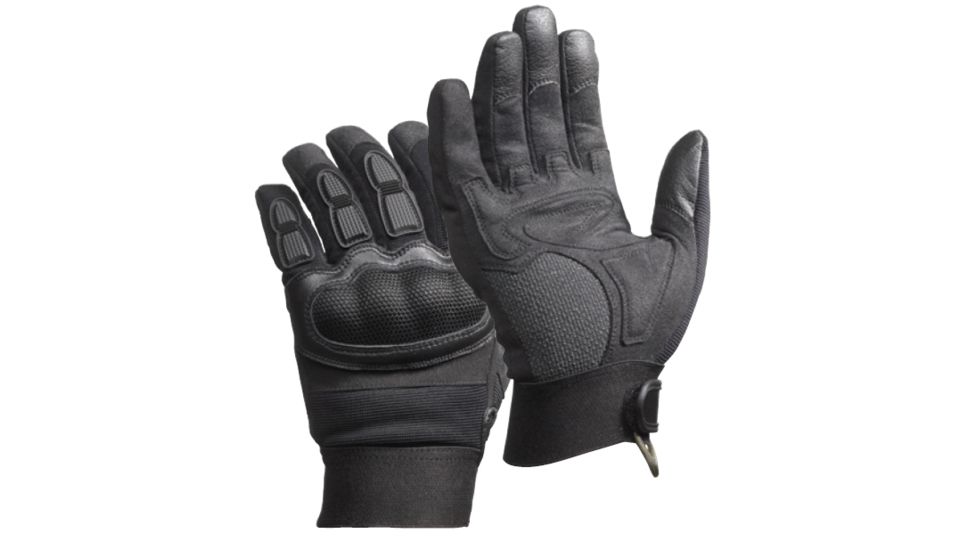 CamelBak Magnum Force MP3 Gloves - Black
RATING
93.75 /100
Design

Excellent

Performance

Excellent

Value for money

Excellent

Feature

Excellent
Specifications for Camelback Magnum Force MP3 Military Gloves:
Dimensions:
11 in x 5 in x 1.5 in (279 mm x 127 mm x 38 mm)
Weight:
0.32 lbs (0.15 kg)
Materials:
Two-way stretch Spandex with Carbon conductive

anti-static fiber; Stretch Kodra; Clarino® synthetic leather; KEVLAR®®:

Padding:
EVA padding w/ TPR (Thermal Plastic Rubber)
Wrist closure:
Hook-and-loop (Velcro-style)
Cord:
Polyester
Features of Camelbak Magnum Force Combat Gloves:
Knuckle protection reinforced with KEVLAR® fiber protects against tough impacts
TPR finger guards flex with movement
EVA-padded foam index finger pad protects without interfering with mobility
Tacky fingertips and thumb for extra grip and finger control
Abrasion-resistant palm heel reinforced with KEVLAR® fiber
Supple, breathable, durable Clarino palm provides firm grip
Two-way stretch Spandex padded top with conductive anti-static fiber provides snug fit
---
---
PROS

Build quality
High quality
Durable, well made
#CamelBak