Maxpedition GTG Fatboy Versipack is designed for right side carry and offers well placed storage compartments. The Maxpedition G.T.G. Fatboy Versipack is good to go. This special edition 9853 GTG Versipack from Maxpedition will cut the clutter with your gear and allow you to store all of it neatly and securely in on bag. Plenty of storage and convenient organization give you an incredibly effective way to carry your gear.
---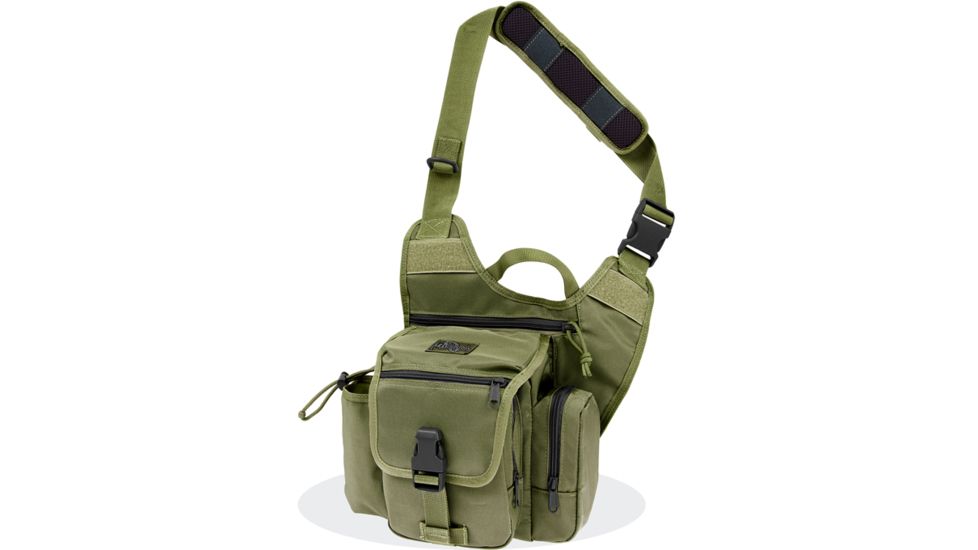 Maxpedition Fatboy G.T.G. Versipacks
RATING
92.25 /100
Design

Excellent

Performance

Excellent

Value for money

Excellent

Feature

Excellent
Features of Special Edition Maxpedition Good to Go Versipack:
Main Compartment: 6.5" (L) x 3" (W) x 8" (H) with drainage grommet
Front Pocket: 5" (L) x 1.5" (W) x 6" (H) with slip pocket and divided elastic admin organizer
Rear Compartment: 8" (L) x 7.5" (W) with 6x8 loop field to accommodate Hook & Loop Modular Inserts
Zippered Side Pocket: 3" (L) x 1.5" (W) x 6" (H)
Water Bottle Pocket: 3" (L) x 2.5" (W) x 6" (H) with adjustable cord retention
Belt loop: Quick detach for up to 2.25" belt
Shoulder strap: Integral 1.5" strap with adjustable non-slip pad; D-ring for lashing; maximum circumference approximate 60"
Carry handle: Integral 3/4" webbing
Tough PU-coated 800-denier nylon fabric for approx. 25% weight reduction
Teflon fabric protector for grime resistance and easy maintenance
high strength zippers and zipper tracks
UTX-Duraflex nylon buckles for low sound closures
Triple polyurethane coated for water resistance
High tensile strength nylon webbing
High tensile strength composite nylon thread (stronger than ordinary industry standard nylon thread)
#AS-100 high grade closed-cell foam padding material for superior shock protection
Internal seams taped and finished
Paracord zipper pulls
Stress points double stitched, Bartacked or "Box-and-X" stitched for added strength
MAXPEDITION's nylon fabric is treated with Dupont Teflon for superb water and grime resistance.
To clean, simply wipe down with a damp cloth. Allow gear to dry naturally.
Do not machine wash.
Do not use detergent or bleach.
---
---